Some provincial politicians are blaming the federal government  for failing to ensure rail safety in the wake of a second CN derailment near the community of Gogama in northern Ontario.
Between 30 and 40 cars of a 94-car train derailed early on Saturday in circumstances reminiscent of the 2013 disaster in Lac-Megantic, Quebec that killed 47 people.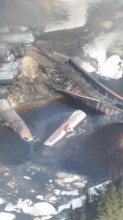 In an email statement last night, Sudbury Liberal MPP Glenn Thibeault said that "after seeing the horrific crash site first hand, he feels it's clear the Harper government needs to do more to improve rail safety to better protect our communities and the environment."
Ontario's Transportation Minister Steven Dul Duca said he would be contacting his federal counterpart, Lisa Raitt, to address his serious concerns with the state of rail safety. Raitt said in a statement that the federal government has taken a number of actions to strengthen rail safety.
"We have already banned the least crash-resistant tank cars from the system; came out last year with tougher new regulations; and have driven the acceleration of the development of a brand new standard with the U.S.," reads the statement.
CN spokesperson Jim Feeny says CN will cooperate fully with the investigation into the latest derailment as well as the one in the same area three weeks ago.
As of last night, efforts to contain the fire were said to be "progressing well."