The federal government will introduce legislation to ensure that a life sentence is just that – life behind bars with no parole.
Ever.
The bill will apply to those convicted of first-degree murder of police or correctional officers; terrorism; treason; kidnapping or sexual assault that result in death and crimes of a "particularly brutal nature."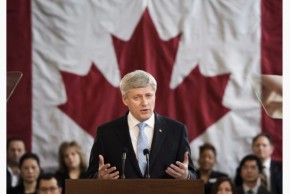 In making the announcement in Scarborough at the Chinese Cultural Centre of Greater Toronto, Prime Minister Harper told a crowd, that included families of murder victims, "for the most heinous offenders and the most horrific crimes a life sentence in Canada will henceforth mean exactly that — a sentence for life."
Currently, those convicted of first-degree murder face an automatic sentence of life in prison with no chance of parole for 25 years.
In order to address constitutional concerns, under the new law, some killers serving life without parole will be allowed to petition the minister for public safety for release after serving no less than 35 years.
Harper stresses this is not parole.
"Unlike parole, decisions will not rest with an appointed board but with the federal cabinet; men and women fully accountable to their fellow citizens and to the families of the victims of these crimes."