A lot of Canadians drink more than they should and doctors are not intervening.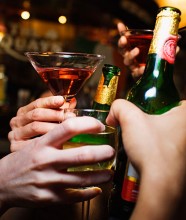 An editorial in the Canadian Medical Association Journal thinks they should.
Dr. Sheryl Spithoff at Women's College Hospital and Dr. Suzanne Turner at St. Michael's Hospital, say 15 to 20% of Canadians drink more than what's recommended, however, they don't have "alcohol use disorders."
But they feel patients heading in that direction could benefit from early intervention.
They recommend family doctors take more of a lead role instead of relying on specialized clinics, which they say have high no-show rates.
The two physicians believe emergency and family doctors should receive mandatory training in screening and managing alcohol use disorders.
They also think the promotion of alcohol abstinence and increased use of medications to prevent heavy drinking would help, pointing out such medications could reduce health care costs by 30%.