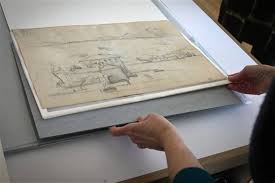 The art world is buzzing about some hidden treasures created by Paul Cezanne.
Two unfinished sketches have been uncovered on the reverse side of two watercolours of southern France by the French master.
Phaladelphia's Barnes Foundation Museum says Doctor Albert Barnes – who bought the works more than 90 years ago – likely was never aware they were there.
The sketches – one in graphite and another in watercolour – were discovered during conservation work.
Cezanne often worked on both sides of the paper in his sketchbooks.
Philadelphia's Barnes Foundation plans to display the treasures in double-sided frames from April 10th through May 18th.