–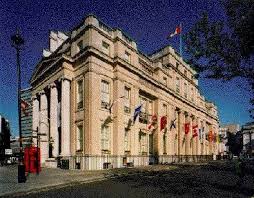 Our country's High Commission in the United Kingdom has undergone an extensive renovation – and Canada House has now re-opened in London.
The location in Trafalgar Square is home to more than 200 pieces of Canadiana and original artwork, including 29 remarkable carpets.
These woven works of art depict items from every province and territory – with abstracts of  snowbanks, birds taking flight from a maritime marsh and the northern lights – among the custom rugs covering the floors of the 200 year old institution.
16 Canadian artists were commissioned for the massive project – undertaken by Toronto-based Creative Matters Inc.
The original Canada House was built between 1824 and 1827.