Eve Adams is seeking the Liberal nomination in the federal Toronto of Eglinton-Lawrence.  The riding currently belongs to Finance Minister Joe Oliver.  But the former Conservative MP for Mississauga-Brampton South says she's ready to represent the people of Eglinton-Lawrence and their concerns.
"I'm out there pounding the pavement.  I was doing that 'til late late last night," Adams explained to CP24, "I think my last phone call was at about midnight, and the folks have been nothing but generous and warm and welcoming.  It's a wonderful community and I'm just looking forward to working hard for them."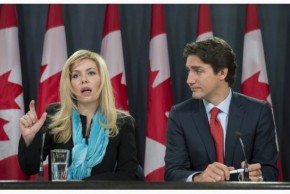 Adams crossed the floor to join the Liberal party on Monday.  But this is only the most recent controversy involving Eve Adams.  Her fiance Dimitri Soudas lost his job as the Conservative Party's executive director in March of last year for helping Adams in her nomination battle for the riding of Oakville-North Burlington.  Soudas had agreed he wouldn't get involved in that race because it would've given Adams an unfair advantage.  On January 29th of this year, Conservative Party president John Walsh sent a letter to Adams saying she wouldn't be allowed to run for the party in the next election.
As for the status of Dimitri Soudas in Eve Adams' campaign to win Eglinton-Lawrence for the Liberals, Adams says, "He's very supportive.  He will obviously be helping out with door knocking in Eglinton-Lawrence to ensure that we paint Eglinton-Lawrence red again, if I should be successful in the nomination.  But my entire family is 100 percent supportive…I find this a tough question, a question from the 1950's.  There are a lot of successful political couples out there and I can't think of the last time I heard a man being asked what role his wife played."
In a tweet on Monday, Soudas said, "Fully support Adams' decision.  She is smart, hard working and caring."
Federal NDP Leader Tom Mulcair will have more to say about this latest move by Eve Adams as Dale Goldhawk's guest after the noon news today on The New AM 740's Goldhawk Fights Back.