The black and white photo of Shoeless Joe Jackson is signed – a rarity.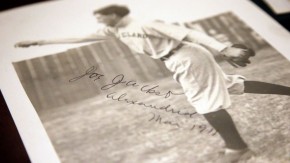 Jackson, who was tossed out of baseball for throwing the 1919 World Series and remembered in the 1989 movie "Field of Dreams", was illiterate.
He hardly ever signed anything, except cheques and legal documents, making a picture with his signature extremely rare.
Just how many others may be out there with his signature is not clear, but many experts agree it's probably less than 100.
But this is the first signed photo that's been authenticated by experts.
The head of the company that validated the signature and photo says, "If I were a betting man, I'd say the chances of another one surfacing would be highly unlikely."
The signed photos of Jackson and other members of the Cleveland Naps, the team that became the Indians, will be sold in New York City February 21st.
It could fetch at least $100,000.