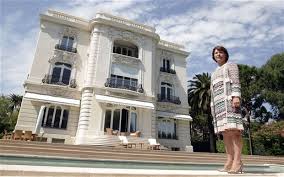 A chill has gone through the high-end art world.
And the source is the granddaughter of Pablo Picasso.
Marina Picasso plans to sell-off works from her personal collection of art- created by the famed Spanish artist.
She has said she will bypass traditional art market routes – and sell them "one by one, based on need," to raise money for her charity work in Vietnam, France and Switzerland.
There are suggestions that she'll be parting with seven very famous paintings, as well as the villa in Cannes she inherited, "La Californie," – which together are estimated to be worth $290 million.
64-year old Marina knows which piece she will dispose of first – "La Famille" from 1935, which depicts a family in an arid landscape.
She says, "it is symbolic because I was born in a great family, but it was a family that was not a family."
Marina reportedly is in possession of upwards of 10,000 original works by Picasso.
Some collectors, art investors and dealers are worried that prices for Picasso works could drop – and the art world may lose out on millions of dollars.