The daughter of a 79-year old Ottawa man's asking Queen's Park to grant her dying father health coverage retroactive to last November, even though he's lived outside Canada for years.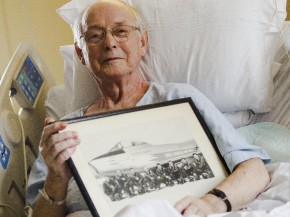 Jim Holt moved to Italy 12 years ago when he remarried after his first wife died.
They split time between Italy and Argentina, his wife's home country, but made regular visits to Canada to visit his children until last summer when he developed a sore back.
Doctors in Argentina said it was fractured, but when he came to Ottawa last November, he learned it was cancer.
Now the former Canadian fighter pilot and Foreign Affairs officer's facing $61,000 in medical bills.
His daughter says he paid taxes during the time he lived abroad, so he's not trying to take advantage of the system.
The family lost a claim before the OHIP Eligibility Review Committee and is now taking the case to the independent Health Services Appeal and Review Board.
In the more than 200 cases it's heard, not one appeal has been granted.
A spokesperson for the Ministry of Health says there are no provisions in the regulation that allow OHIP coverage to be granted on compassionate grounds or for any other discretionary reason.
A Toronto lawyer representing the family wonders why there's an appeal process at all if the committee and review board have no power to overturn the law.