There won't be near enough copies of Charlie Hebdo available in Canada to meet demand.
The satirical magazine's Canadian distributor LMPI says 1500 copies of the post-massacre issue will be in stores today.  The vast majority will be carried by Quebec retailers.  Five locations in Toronto are selling the new issue of Charlie Hebdo. These are Gateway Newstands at Yonge and St. Clair and at BCE Place, Presse Internationale stores on Bloor St. and Queen St. and at an International News Outlet on Front Street.
Owners of some stores say their limited number of copies have already been spoken for by people who've reserved them ahead of time.
But Charlie Hebdo is also making the issue available through its iPhone and Android apps.  The issue is on sale for $3.49 through the Apple App store and $4.24 cents through Google Play.
The issue, which has been selling out in France, is the first one produced since a pair of al-Qaida inspired terrorists opened fire at the magazine's Paris offices on January 7th, killing 12 people.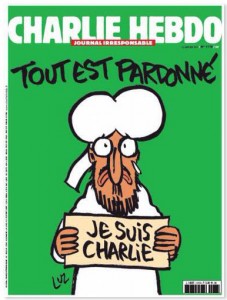 The cover of the latest issue shows a caricature of the Prophet Muhammad weeping and holding a sign reading "Je Suis Charlie" with the words "Tout Est Pardonne" or "All is forgiven" above him.