2014 will go down in history as Broadway's best year at the box office.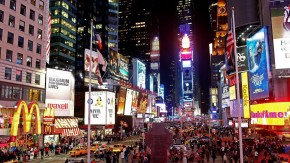 According to the Broadway League, more than 13-million tickets were sold last year for a total of $1.36-billion.
That was a 14% increase over 2013. Much of the increase was driven by sales of so-called "premium tickets." Broadway shows regularly offer the best seats in the house for more than $400 each.
The holiday season was also the best in Broadway's history. The Elephant Man, It's Only a Play, The Book of Mormon, Aladdin and The Lion King all broke theater records.
But not all shows enjoyed the record income. Despite superstar composer Sting joining the cast last month, The Last Ship has announced it will close January 24th due to poor ticket sales. Backers will not recoup their investment.