The North American Air Defense Command is tracking the flight path of a very special airborne vehicle.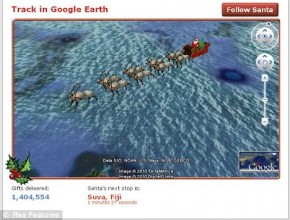 NORAD is tracking Santa Claus as he makes his rounds today.
In the days of the Cold War, Santa always caught NORAD's trackers off-guard with his sudden appearance on radar. So now they coordinate the trip with the North Pole.
Canadian Lieutenant-General Alain Parent is the Deputy Commander of NORAD. He tells CP24 they scramble CF-18s from Baggotville and Cold Lake to intercept Santa, who normally travels at the speed of starlight. He says, as a courtesy, Santa always slows down to greet the Canadian fighter jets.
Parent says they are able to track Santa through a worldwide series of Santa Cams and radar that picks up the infrared signals from Rudolph's nose.
Santa will need Rudolph's guidance once he reaches Southern Ontario. We're expecting fog tonight.
And, by the way, you can track Santa's progress online here.