The woman known as Canada's oldest person has died, a month and a day shy of her 114th birthday.  Merle Barwis of British Columbia was known for celebrating her birthday with a cold beer.  She died last Saturday at a residential care facility in Victoria.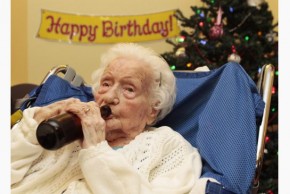 Merle was born December 23rd, 1900 in Des Moines, Iowa.  Her father was a horse rancher and she moved to Abbey, Saskatchewan in her teens.  Variations of her favourite piece of advice included, "Mind your own business and don't worry about too much."
Longevity was in Merle's genes.  Both of her parents lived into their 90's and she had a sister who lived to be over 100.  Merle outlived her two sons and two of her 10 grandchildren.  She leaves behind 17 great grandchildren.