He's been a city councillor, tried to become mayor pinch-hitting for his ailing brother, but Doug Ford says he will not seek the Ontario PC leadership.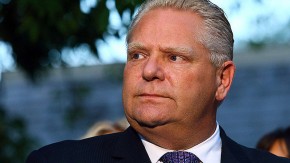 Apologizing to supporters and those who'd encouraged him to run, the 50-year old Ford said life moves on.
He told reporters gathered for this morning's announcement outside the family's business in Rexdale, it was the most difficult and toughest decision he's ever had to make.
In explaining his decision, Ford says the province is in a financial mess but feels the party already has five strong candidates to replace Tim Hudak, who resigned after the Liberals majority election win last June.
Asked who he supports, the brother of the ailing, outgoing mayor, was characteristically blunt – Christine Elliott, widow of the late Federal Finance Minister Jim Flaherty, a family friend.
"Loyalty means everything to us.  Christine's an extremely, extremely bright individual and she can drive this province forward.  And yes, I'd be supporting Christine Elliott."
Meanwhile, pollster Lorne Bozinoff told the New AM 740's "Goldhawk Fights Back," Forum Research did a poll on the party.
"If you don't mention who the leader is, the Tories are at 35 % in Ontario.  If you mention the leader as Christine Elliott, they actually drop three points, down to 32.  If you mention Doug Ford being the leader, they actually drop eight points, down to 27.  So, it would be quite a hit that the Tories would take if he were the leader I think."
The party picks its new leader next May.