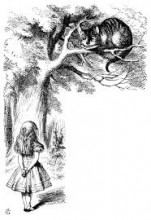 Alice is taking a trip to America.
Lewis Carroll's handwritten, illustrated manuscript for "Alice in Wonderland" will travel to the U.S. to mark its 150th anniversary. Next year, The British Library will loan the book to New York's Morgan Library and Museum – and to a museum in Philadelphia – the Rosenbach Museum of the Free Library of Philadelphia.
Writing as Lewis Carrol, Charles Lutwidge Dodgson presented the manuscript to Alice Liddell – the young girl who inspired the work which bears its original title of "Alice's Adventures Under Ground."
The book was published in 1865.
It was purchased by an American dealer in 1928 – and returned to Britain twenty years later.