Nothing has changed in the last year.
It its 24th annual wait times report, the Fraser Institute says Canadians are waiting, on average, 18.2 weeks for medically necessary surgery or other treatment.
The same as last year.
In 1993, the wait time was 9.3 weeks.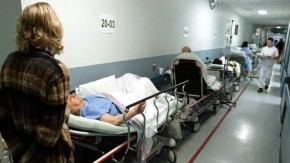 "Waiting Your Turn: Wait Times for Health Care in Canada," examined the total time faces by patients from referral by a general practioner, to consultation with a specialist and subsequent receipt of treatment.
Lead author and Fraser Institute senior economist Bacchus Barua tells the New AM 740's Goldhawk Fights Back, "For a lot of patients, wait times can have serious consequences.  They can result in pain and suffering.  They can result in poorer medical outcomes – transforming a treatable illness into something that might be a debilitating disability later on in the future.  They can result in lost wages because patients aren't able to go and do their work properly.  And in some cases – in the extreme cases they can actually even result in death."
Among provinces, Ontario had the shortest waits (14.1 weeks) while New Brunswick had the longest (37.3 weeks).
Barua says "If Canada wants to provide more timely access to quality health care, it should consider adopting some of the policies used by other countries with universal health care systems, such as Switzerland, the Netherlands and Australia."