Hazel McCallion's time as Mississauga mayor is just days from coming to an end. After 36 years as mayor, 93 year McCallion will preside over her last city council meeting today before she retires and hands over the position to Bonnie Crombie who was elected last month.
McCallion, as well as retiring councillors Katie Mahoney and Pat Mullin, will be recognized for their years of service at today's meeting.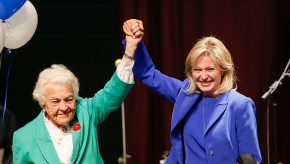 Nicknamed Hurricane Hazel, McCallion has been mayor of Mississauga since 1978 and won her 12th term in 2010.  She announced shortly after winning that election that it would be her last term in office.  Under her leadership, Mississauga has become the third largest city in Ontario and sixth largest in Canada with a population of 734,000.
Bonnie Crombie will be sworn in on Tuesday.