Former CBC radio host Jian Ghomeshi's free on $100,000 bail after being charged with four counts of sexual assault and one of "overcome resistance-choking."
It was a wild scene in the ground floor hallway of the College Park Courthouse.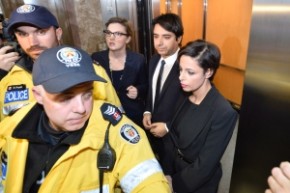 A crush of cameras and reporters encircled Ghomeshi and his lawyer Marie Henein, who made a brief statement soon after he was released on bail
His conditions include not having contact with his alleged victims, turning over his passport, remaining in Ontario and living with his mother.
His next court appearance is January 8th.
The former CBC radio host had turned himself in to police earlier in the day and was charged with four counts of sexual assault and one of what police call "overcome resistance – choking."
The CBC says none of the charges involved current or former employees.
The charges come the day after it was revealed he was dropping the $55-million lawsuit against the public broadcaster.
As part of the settlement, Ghomeshi will have to pay $18,000 in legal costs to the CBC.
Ghomeshi was fired exactly one month ago after the public broadcaster said it had seen what it called "graphic evidence" that he had physically injured a woman.
Since then, nine women have come forward alleging he had sexually or physically assaulted them.
At least three had filed complaints with police.
Ghomeshi's admitted to engaging in "rough sex" but maintains it was always consensual.