The auditor general has found there are too many barriers to Canadian veterans getting mental-health services and benefits, including a complex application process and delays in getting their records from the Department of National Defence and Canadian Armed Forces.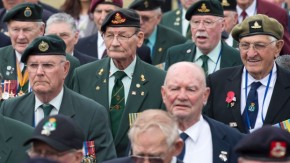 Michael Ferguson reports some vets are waiting up to eight months before finding out if they're eligible for disability benefits.
He says Veterans Affairs "does not collect information or report on the effectiveness" of its mental-health strategy.
The auditor general adds, "Veterans Affairs needs to know if the support provided meets the mental-health needs of veterans."
While he found the rehabilitation program processed applications quickly, the disability benefits program used by most vets "is slow, and the application process is complex."
Veterans Affairs says it spent $508-million on mental-health services in 2012-13, with about 15,000 vets and still-serving personnel eligible for mental-health support as of last spring.