A sentencing hearing for one-time Conservative MP Dean Del Mastro has been postponed until January 27, but questions remains about what's next.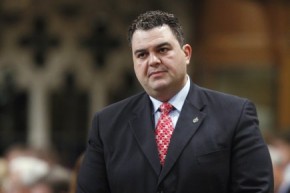 Del Mastro, once the prime minister's parliamentary secretary, resigned his Commons seat two weeks ago after he was convicted of violating the Canada Elections Act during the 2008 election.
He'd sat as an Independent ever since being booted from the Tory caucus the day he was charged in September 2013.
Late last month, Del Mastro was found guilty of exceeding spending limits, failing to report a personal contribution to his own campaign and knowingly submitting a falsified document.
He faces a maximum penalty of one year in jail and a $2,000 fine on each of the convictions.
Del Mastro recently indicated his lawyers would ask the court to permit them to re-open the defence in order to present new evidence.
But the Crown says no application to re-open has been brought forward and none's expected.
Del Mastro's new lawyer Leo Adler says while he still needs time to review the case, he has no plans to re-open the case.
It's also unclear if Del Mastro, who continues to maintain his innocence, plans to file an appeal.