Theatregoers who have seen the hit play The Audience will notice a difference when the play opens on Broadway in the new year.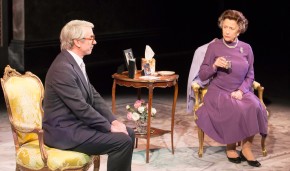 Playwright Peter Morgan has re-written the ending of the play that stars Helen Mirren as Queen Elizabeth. It imagines the weekly meetings between the Queen and the twelve men who have served as Prime Minister during her long reign. They discuss everything from world events to technological advances such as the cell phone.
Director Stephen Daldry says Peter Morgan is constantly re-writing the play as world events unfold.
The Audience begins previews on Broadway in February after its record-breaking run in London. While Helen Mirren re-creates her award-winning performance, Kristin Scott Thomas will open a new production in London.