One of history's most famous hats is going up for auction.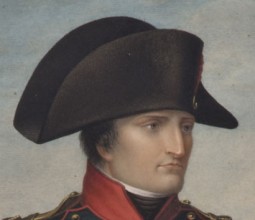 Napoleon Bonaparte's famous bicorn chapeau is also displayed next to the Chateau where the general lived – when he wasn't leading troops across Europe.
The hat's black felt is showing it's age and use – although no one's actually worn the hat – since Napoleon's cavalry veterinarian wore it – after Napoleon gave it to him as a gift.
Pre-sale estimates range up to $623,000 for the hat – which is part of a collection belonging to Monaco's royal family, who are distant relatives of Napoleon.
Also for sale are dozens of medals, documents, a jeweled sword, a Russian caviar spoon and a bronze eagle that once perched atop a battle flag – complete with bullet holes.