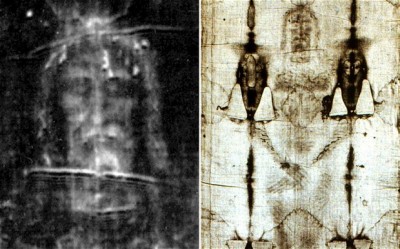 It's been four years since The Shroud of Turin was last displayed in public – but the venerated cloth will be on display for a few months next year.
And Pope Francis said today that he will travel to the northern Italian city on June 21st – to view that 4.3-meter-long  cloth, believed to be the burial shroud of Jesus Christ.
The holy relic is kept in a climate-controlled case in Turin's cathedral.
There is no charge for next year's public viewing – but reservations are required for the April 19th to June 24th event.
Skeptics say the linen – which bears the figure of a crucified man – is a medieval forgery.
Turin's Archbishop Cesare Nosiglia has called the shroud both "reality and deep mystery" to which science has not given "concrete answers."