Ottawa will extend the life of its fighter jet fleet.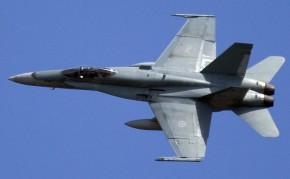 The decision comes as the Harper cabinet considers a deployment of planes as part of the air campaign against the Islamic State in Iraq and Syria.
A spokesperson for Defence Minister Rob Nicholson says the CF-18 fighters are an important part of the country's defence and will be updated to keep them in the air until 2025.
Four CF-18s are taking part now in policing missions over the Baltic states as part of NATO's efforts to reassure eastern European allies worried about the Ukraine crisis.
No word on how much the government plans to spend on the upgrade that will focus on strengthening the airframes and overall wing structure or how this may affect the decision on whether to proceed with the F-35 purchase.