Chinese artist and activist Ai Weiwei has turned San Francisco's infamous former island prison into a tribute to political prisoners.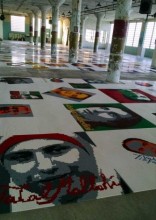 @Large: Ai Weiwei at Alcatraz opens Saturday at Alcatraz prison.
The focal point of the installation is a set of 176 portraits of political prisoners made out of lego blocks.
Ninety volunteers assembled the portraits using 1.2-million lego pieces from patterns and instructions provided by Ai.
The artist remains under house arrest in China on what he says are trumped-up tax charges.
The portraits include Nelson Mandela, American whistle-blower Edward Snowden, and many other unknown prisoners of conscience.
Alcatraz closed as a prison in 1963. It is now a cultural, historical, and wildlife site.