The Stratford Festival is going to make more of this season's productions available for movie audiences.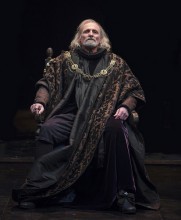 The Festival has announced it will film its highly-praised production of King Lear starring Colm Feore. It will be released to movie theatres in February.
That will be followed by King John, starring Tom McCamus and Seana McKenna, in April.
Finally, Antony and Cleopatra,' starring Geraint Wyn Davies and Yanna McIntosh, will open in May.
Artistic Director Antony Cimolino says the festival intends to film three Shakespeare productions each season "to create a Canadian collection of the entire Shakespeare canon." He says it will allow Stratford to "preserve the performances of our greatest actors and share them with an audience far beyond our borders."
Cineplex will show the films in Canada. International distribution will be handled by the same company that broadcasts the Metropolitan Opera and National Theatre Live productions.