It was an historic night on television, as Barbra Streisand made her first late-night talk show appearance in nearly 50 years.  The legendary singer was a guest on The Tonight Show with Jimmy Fallon, who marked the event by insisting they switch spots.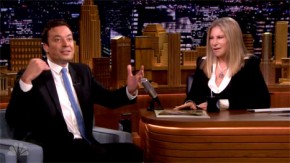 (Photo credit: NBC)
Streisand's last appearance on evening television was in 1967 when she was a guest on Jimmy Carson's Tonight Show.  The 72 year old legendary singer is promoting her new album of duets, Partners.  (We've been playing select cuts here The New AM 740.) So she and Fallon did a duet parody, with Fallon singing as Elvis on Love Me Tender.  Babs also sang solo performing Come Rain or Come Shine.
Fallon told Streisand, "I thought you might be a nightmare, or a diva.  But you were nice to everybody here.  You are allowed to be a diva.  What did you do with Barbra Streisand?!"
"I'm quite ordinary," replied Streisand. "We lead a simple life.  We don't really like the big-time stardom thing.  We take little trips in a truck.  My husband drives," she added, of life with James Brolin.
During the interview, Fallon held up the sexy cover for her 1977 album Superman, showing a voluptuous Streisand wearing only a T-shirt.  "That's when the tush was up," the actress and musician joked.