This will be all the talk over the weekend at the Bloor West Ukrainian Festival in Toronto, which is proudly sponsored by The New AM 740 and The New Classical 96.3FM.
Ukrainian President Petro Poroshenko plans to visit Canada next week when he will address parliament. Prime Minister Stephen Harper made the announcement last night at the United for Ukraine Gala fundraising dinner in Toronto, and promised that Ukraine will always have the friendship and the steadfast support of Canada.  "The people of Ukraine seek a future of engagement with the west," Harper explained, "because they seek what we have in the west; freedom, democracy, prosperity.  Sadly (Russian President) Vladimir Putin wants to deny them that future."
The September 17th visit is seen as an opportunity for Harper and Poroshenko to discuss the crisis in eastern Ukraine, with a particular focus on the steps required to restore Ukraine's territorial integrity.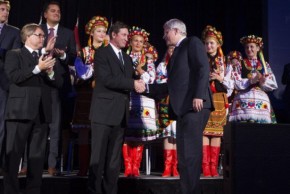 (Photo credit: Toronto Star)
Before Harper spoke, hockey legend Wayne Gretzky made a surprise appearance with his wife Janet. Gretzky's grandparents were Ukrainian.  Needless to say, the Great One received a long and appreciative standing ovation.  Ottawa Senators owner Eugene Melnyk, who is a tireless fundraiser for Ukrainian causes, introduced Gretzky.  The Great One joked that "this was the first and only time the owner of an Ottawa hockey team would get a warm reception in Toronto."
Meantime, Ukrainian government and pro-Russian forces have exchanged dozens of prisoners captured during fighting in Ukraine as part of a cease-fire agreement sealed earlier this month.  The transfer took place outside the main rebel stronghold of Donetsk under the watch of international observers.  A cease-fire between separatists and the Ukrainian military took effect last Friday but has already been serially violated. Shortly after the prisoner exchange, a volley of rocket fire was heard from central Donetsk.