Rob Ford's former chief of staff has written a tell-all book about the mayor which will be published before the election.  Mark Towhey was fired by Ford and walked out of Toronto City Hall during the mayor's crack cocaine scandal in May of 2013.  Towhey had urged the mayor to seek help for his alcoholism and drug addiction.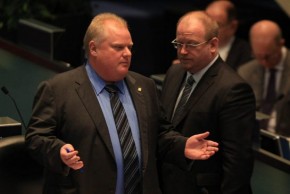 (Photo credit: Toronto Star)
The book description says "Towhey gives an insider account of working with Ford, covering for him, managing a man who people see as a joke, who trips over himself in videos; who throws candy at children instead of handing it to them; who rants and raves, and gets belligerent in meetings and at private events."
Online stores and the Toronto Public Library website give the title as either Uncontrollable: My Life with Mayor Rob Ford or Mayor Rob Ford: Behind the Scenes: My Attempt to Help the Belligerent Mayor.
The book is also described as "a must-read for Canadians voting in the mayoral election."  Initially Canadian websites such as Amazon.ca said the release date would be November 11th,  two weeks after the October 27th vote. Now, Amazon.ca says it will release the book the same day Amazon.com is releasing it in the United States, on October 21st.