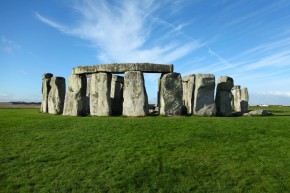 There's more to Stonehenge than meets the eye.
Researchers have produced detailed maps of what's underneath the World Heritage site – using ground penetrating radar and other techniques.
They've come up with images of 17 previously unknown ritual monuments and a massive timber building – thought to have been used for burial ceremonies.
The leader of The Hidden Landscapes Project, Professor Vincent Gaffney of Birmingham University –  says the findings included types of monuments never seen before by archaeologists.
An international team of experts spent four years scanning 14.5 square kilometres in and around Stonehenge.
The discoveries include huge burial mounds containing piles of jewelry and gold – and totem pole type posts, or stone structures in a "super-Henge" – a circular mound more than 1.5 kilometres in diameter.
The mysterious Stonehenge ring of massive stones is located about 130 kilometres southwest of London.