What a great weekend it was for the 3100 men and women who took part in this year's Shoppers Drug Mart Weekend to End Women's Cancers.  The annual event raised $7.7 million for the Princess Margaret Cancer Centre, for a total of $148 million over the 12 years since it began.  The two-day, 60 kilometre walk through Toronto brings together communities of survivors and their supporters who spend months fundraising and training in order to participate. Once again, Kitty Cohen completed the one day portion of the walk.  Kitty is now 101 years old!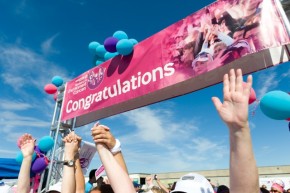 Next year, the event is changing to a one day walk to raise funds for personalized cancer medicine at The Princess Margaret.  Paul Alofs is the President and CEO of the Princess Margaret Cancer Foundation.  He says this effort originally began to raise money for breast cancer research alone.  "One of the reasons the survivorship rates are where they are, is the breast cancer community has been such an activist community, and they have raised so much money that it's (resulted in) spectacular survivorship rates in relative terms to other cancers."
Next year, it will be called the Shoppers Drug Mart OneWalk to Conquer Cancer.  Funds raised in a one day 25 kilometre walk will continue to support the clinical enhancements, survivorship programs and research of Doctor Tak Mak at the Princess Margaret Cancer Centre.  And when a walker registers, they will select a specific cancer fund their dollars raised will support, including lung, bladder, and brain cancers, melanoma and childhood cancers.