The board of an arts centre planned for Ground Zero in New York City has scuttled a design by world-renowned Canadian architect Frank Gehry.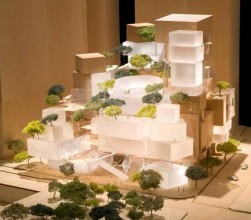 Gehry's design for the Performing Arts Centre at the World Trade Centre took the form of a series of rectangular boxes piled on top of one another. It would have included three performing arts stages.
But the Board of the centre has decided to downsize the project, and is considering designs from three architectural firms. Gehry will not be given a chance to re-submit.
The 85-year-old Toronto-born architect says he hasn't been told officially of the board's decision. He said in an interview he'd heard "zero at ground zero." He went on to say he felt the new president of the project didn't appreciate his work.
The Performing Arts Centre at Ground Zero has faced a number of delays over funding, organization, and infrastructure