Another school year begins today as police across the province launch their back to school safety campaigns.   Toronto Police Constable Hugh Smith tells CP24 it's all about being more aware of the surroundings.  "We want people to start to take some time.  We have to share that responsibility about getting everybody (to school) safely.  So, it's a matter of communication and courtesy, but we are going to be out across the province for the next couple of weeks, trying to get these children back to school, getting to that good walking and driving behaviour, and just have a good start to the year."
Officers will be targeting aggressive and distracted drivers in school zones and reminding motorists that passing a stopped school bus is illegal.  More than 800,000 children ride on school buses each day in the province of Ontario.  The law requires drivers to stop for school buses when they`re loading or unloading passengers.  Failing to stop for a school bus carries a fine of up to $2000 and six demerit points for a first offence.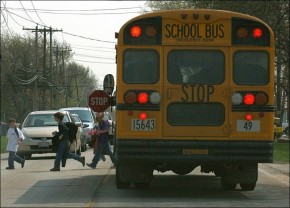 Meantime, some full day kindergarten classrooms are still not ready for the start of the new school year.  Additions had to be built on ten Toronto schools to accommodate the new program and as a result of increased enrollment, they aren't ready to go yet.  But students will still have a place to go, such as an unused classroom, library or portable until their classrooms can be completed.
Not all students in Canada are going back to school.  Summer vacation is continuing on the west coast. Teachers in British Columbia have been on strike since June and show no signs of returning to the classroom.  Talks broke down on the weekend and veteran mediator Vince Ready says the two sides remain too far apart to begin the mediation process.