Britain's National Theatre is preparing its first Broadway show for broadcast into movie theatres.
National Theatre Live has filmed more than 20 British productions since 2009.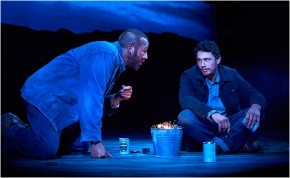 Now, for the first time, it's expanding to include a hit production from Broadway. The revival of John Steinbeck's Of Mice and Men stars James Franco and Chris O'Dowd. It opened in April and became the first show on Broadway's Spring calendar to make back its initial investment.
The limited run closes on Sunday. Dates for the National Theatre Live screenings have not yet been announced.