The script to Michael Douglas' latest film contained some potentially uncomfortable parallels to the actor's real life.  Douglas says he had the option of changing the script to And So It Goes, but chose not to do so.
His character's son in the film has drug problems, as does his own son, Cameron.  "I remember reading it and smiling, and shaking your head, and things kind of come around in characters," Douglas explains, "but I only wish my son had the same situation as the character did and was out in eight months."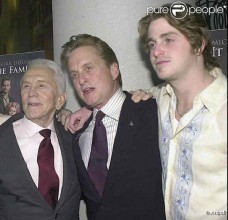 (Michael Douglas with son Cameron and father Kirk)
Cameron Douglas is currently serving a prison sentence in the U.S. for dealing drugs. He's not scheduled for release until 2018.  Michael Douglas stars with Diane Keaton in Rob Reiner's And So It Goes. It opens on Friday.