The RCMP has charged Mike Duffy with fraud, breach of trust and bribery.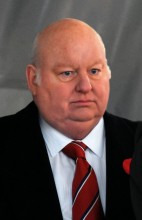 The charges involve the suspended senator's claims for living expenses, claims for travel expenses not connected with official business and fraudulent contracts.
They also cover the $90,000 Duffy got from Nigel Wright, the prime minister's former chief of staff.
The opposition parties are blaming the prime minister.
The NDP say the buck stops with Stephen Harper while the Liberals say he has tried to evade responsibility.
A spokesperson for the prime minister calls the behaviour described in the charges "disgraceful".
Duffy's to appear in court September 16th