Return to Grace is getting rave reviews for Steve Michaels' stellar performance as Elvis!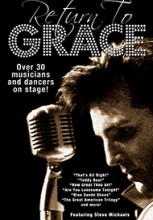 The show is on a limited run at Toronto's Ed Mirvish Theatre until Sunday July 20th, but Return to Grace writer Rob Asselstine told The New AM 740's Happy Gang, it's about to go international.  "There are some conversations about various cities in the United States – New York, Chicago and Las Vegas," Asselstine explains, "there's also a gentleman who's speaking with us about China and the Philippines."
Return to Grace takes the audience from the early days of Elvis Presley's career in the 50s to the historical Aloha in Hawaii concert in 1973.
Some of the performances in the Mirvish show, including American Trilogy, evoke tears from people in the audience.  "That's a very important song to the fans," says Asselstine, "American Trilogy kind of embodies his heart and soul as far as how he felt about America and how he felt about music."
For more information on Return to Grace, click here