A "treat-tweet" for fans of Sherlock Holmes and British actor sir Ian McKellen.
He has revealed the first photo of himself as a 93-year-old Sherlock Holmes – in a new movie which imagines the famous sleuth in his old age – retired and living in seclusion by the sea.
"Mr. Holmes" is based on Mitch Cullin's novel "A Slight Trick of the Mind,"and sees the detective struggling with a failing memory – and revisiting a final unresolved mystery.
Sir Ian is 75-years-old.
He tweeted a picture of himself in costume as Holmes this week, saying: "Over 70 actors have previously played Sherlock Holmes. Now he's 93 years old and it's my turn."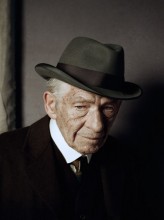 Co-star Laura Linney plays Holmes' housekeeper in the film due out next year – directed by Bill Condon.