The grandson of famed oceanographer Jacques Cousteau is back on dry land after a month undersea.  46 year old Fabien Cousteau stepped off a boat in Florida yesterday saying he was torn about leaving his underwater home, but he missed his family and friends.  "It's interesting because on one level I was really sad to leave my new home, my home for 31 days, and our neighbours, more specifically, because it's such an alien environment," Cousteau explained, "We got to be really friendly with our neighbours."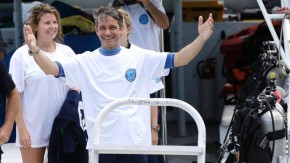 Cousteau and his team of filmmakers and scientists dove to the Aquarius Laboratory off Key Largo on June 1st to study the effects of climate change and pollution on a nearby coral reef.  Aquarius is air conditioned and equipped with wireless internet, a shower, a bathroom and six bunks as well as portholes that give occupants a 24 hour view of the surrounding marine life.
Because they'd spent so much time underwater, Cousteau and his "Mission 31" crew needed to undergo roughly 16 hours of decompression before returning to the surface.