Just two years after becoming junior champ, Eugenie Bouchard's one win away from capturing Wimbledon's Singles crown.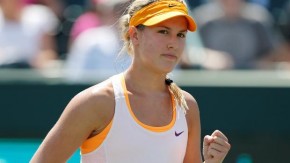 The 20-year old beat Romania's Simona Halep 7-6 (5), 6-2 in one hour 34 minutes.
With the straight sets victory, Bouchard's now gone six matches at the 2014 Championships without losing a set.
She'll face Petra Kvitova in Saturday's final.
Bouchard says "I expect a tough challenge … I think I can play even better than I played today.  I just want to give it my best effort.  I want to leave it all on the court and see what happens."
Kvitova, who won Wimbledon in 2011, beat Bouchard in straight sets in Toronto last year.
Milos Raonic hopes to follow Bouchard into the finals.
He faces Roger Federer in the semi-finals tomorrow morning.