Magic Johnson is taking the high road after L.A. Clippers owner Donald Sterling took several shots at the former basketball legend.  Johnson told CNN's Anderson Cooper he feels sorry for Sterling, and called the situation sad.
Sterling tried to clear his own image after a racist rant recorded by his girlfriend  and earlier this week repeatedly mentioned that Johnson is HIV positive and not a good role model for children or minorities.  Last night, Johnson defended himself.  "My whole life is devoted to urban American so I just wish he knew the facts when he's talking.  But he's a man who's upset and he's reaching…he's trying to find something he can grab onto to help him save his team, and it's not going to happen," Johnson explained.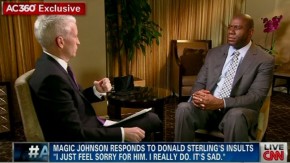 But Magic Johnson says he only wishes Donald Sterling the best.  "Again, I'm going to pray for the man, because, even if I see him today, I'm going to say hello to Donald and his wife as well.  I'm not a guy who holds grudges and all that.  Yes, am I upset?  Of course, but at the same time I'm a God fearing man.  I'm going to pray for him and hope that things work out for him."
The NBA has already banned Sterling from running the L.A. Clippers and is trying to force him to sell the team as soon as possible.