A new movie on the life of Ernest Hemmingway is making history while re-telling history.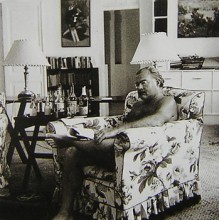 Papa tells the story of a hero-worship by a young reporter for the legendary author that turns into a friendship during the Cuban revolution.
It's being shot on location in Cuba at Hemmingway's farm and many of his other haunts by Hollywood producer-director Bob Yari. It is the first Hollywood film to be filmed on location in Cuba since Fidel Castro seized power in 1959.
The movie is a joint US-Canadian-Cuban production. It was able to get around the US embargo on Cuba because it's based on an autobiography and qualifies as a documentary.