A group of 50 British air force officers are marching in Poland to commemorate a daring escape during the Second World War.
The officers are marching from the site of a Nazi prisoner-of-war camp to a cemetery in western Poland to mark the 70th anniversary of the Great Escape.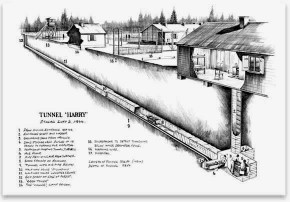 Seventy-six prisoners emerged from a tunnel dug from a prison camp the Nazis designed to be escape-proof. Only three of the 76 made it home. Of the rest, the Gestapo executed 50.
The story was told in Australian writer Paul Brickhill's memoir of the escape. It was made into a movie in 1963.
The book and movie were dedicated to "the fifty."