A missing Normal Rockwell painting has been recovered.
The work was sold for more than a million dollars at auction in New York a year ago, and then disappeared.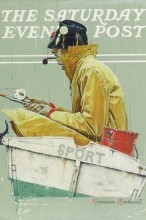 Welpak Corporation handles storage and transport for works of art. It reported that a private investigator had recoverd the painting in Ohio. It was still in its storage wrapping and appeared undamaged.
No one has been charged in the painting's disappearance.
Rockwell's created the work, which he called Sport, in 1939. It was one of many Rockwell works used as a cover on the Saturday Evening Post.