There is still no word this morning on the exact whereabouts of deposed Ukrainian President Viktor Yanukovych.  Ukraine's acting interior minister says that a warrant is out for the arrest of Yanukovych, last seen in the pro-Russian Black Sea peninsula of Crimea.  In a statement on his official Facebook page today, Arsen Avakhov says a warrant is out for Yanukovych and several other officials, suspected in mass killings of civilians.
Calls are mounting in Ukraine to put Yanukovych on trial, after a tumultuous presidency in which he amassed powers, enriched his allies and cracked down on protesters. He was stripped of the presidency yesterday by Ukraine's parliament.  An ally of freed opposition icon Yulia Tymoshenko, Oleksandr Turchinov, has been assigned presidential powers.
Former Soviet leader Mikhail Gorbachev has weighed in on the situation in Ukraine. He says it is important that Ukraine hold together, emphasizing the battle for influence between Russia and the West in the crisis embroiling Ukraine.  He also says the months of protests that drove Yanukovych from office stemmed from his government's failure to act democratically.  Gorbachev told The Associated Press that the people of Ukraine have a "common history" and that an attempt by the European Union, the United States or Russia to "have things their own way … would be wrong."
Meantime, U.S. President Barack Obama's national security adviser says it would be a "grave mistake" for Russia to intervene militarily in Ukraine. Susan Rice says the administration wants Ukraine to make a peaceful transition.  "We want to see a deescalation of violence, we want to see constitutional change, we want to see democratic elections in very short order," Rice specified.  She also said that in the weeks ahead, Washington will co-operate with Europe and international organizations to help the Ukrainian economy, which she described as fragile.
In the wake of last week's deadly protests, International Monetary Fund Chief Christine Lagarde says her organization stands ready to consult the Ukrainian Finance Ministry should assistance be required.  "If the Ukrainian authorities were to ask for IMF support, whether it's policy advice, whether it's financial support, together with economic reform discussions, obviously we stand ready to do that."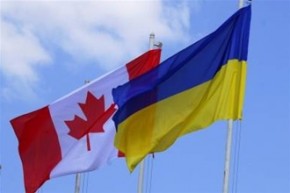 Here in Canada the Ukrainian Canadian Congress is appealing to Canadians to help provide humanitarian relief to assist Ukrainian victims of last week's violent crackdown on protesters by making a tax deductible donation.  There's more information on how to donate here