The National Arts Centre Orchestra has announced a new music-director designate.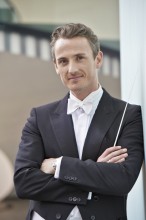 Briton's Alexander Shelley will become Music Director of the NAC Orchestra in 2015. The 34-year-old is currently in his fifth year as Chief Conductor of the Nuremburg Symphony Orchestra. He has also conducted other major orchestras in Europe, and has led the NAC orchestra five times in the last four years.
NAC President and CEO Peter Herndorf calls Shelley "one of the leading figures of a new generation of international conductors."
Alexander Shelley will take over from Pinchas Zukerman, who has led the National Arts Centre Orchestra since 1999.