Just weeks before school returns, tension continues between the Ford government and province's teachers who have concerns over the new math curriculum for grades 1 to 8. Educators say they've had little training on the material that's expected to be taught in weeks.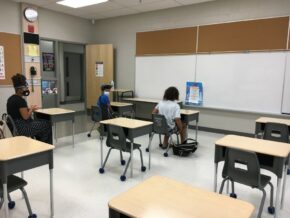 University of Toronto Professor Mary Reid, an expert in math curriculum, says it couldn't come at a worse time during a pandemic. Reid admits the new curriculum is needed but says teachers need ongoing training and that can't happen now. Education Minister Stephen Lecce has said the curriculum can't wait, because poor math performance is a crisis.
Meantime,
The province is asking school boards to spend $50 million to upgrade air quality in schools by Thanksgiving. But that's a difficult timeline according to the advocacy group Fix Our Schools who say the funding wasn't allocated until earlier this month. A spokesman also says the provincial guidelines fail to consider the poor condition of many older schools, making the standards difficult for many boards to achieve.