Phase one of the seven year Massey Hall Revitalization project was revealed Today. The presentation featured Federal Finance Minister Joe Oliver and Mayor John Tory as speakers at the launch."This investment will be used to expand Massey Hall, and provide the foundation for the patron, the artist amenities, improvements in accessibility, and technical infrastructure." said Oliver.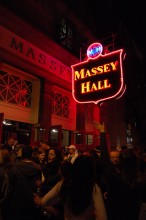 "I hope today represents a new beginning, a new chapter in doing something very special for a special place." said John Tory, who revealed The City of Toronto is not funding any of the project , but did make contributions in the planning.
The federal and provincial governments will put down $8 million dollars towards the first phase, which was approved by city council in 2013. The revitalization is estimated to cost $135 million with funding coming both privately and publically. The renovation will be completed in 2019, with the hall remaining open during the first phase.