It's a day to pay tribute to caregivers and celebrate the valuable work they do.
It's also an opportunity to raise awareness about issues that might be affecting caregivers.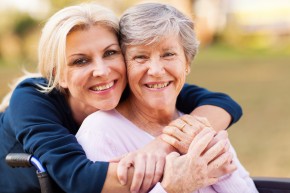 The first Tuesday of every April is National Family Caregiver Day.
It's a familiar way of living for the 6.1 million employed Canadians across the country who must juggle their responsibilities at work with their caregiving duties and other commitments at home.
Caregiving can be a full time job in itself, so caregivers often have no other choice but to continue working in order to support their families financially. But when they do take a leave of absence or reduce their work hours, caregivers decrease their retirement income and sacrifice extended health benefits on top of losing current wages.
The balancing act caregivers try to achieve is also an economic issue. When circumstances force caregivers to give up their jobs to take care of a loved one at home, the cost to employers is substantial. They lose 18 million work days a year and losing skilled employees means their employee turnover increases. And this in turn has a negative effect on the Canadian economy, with 1.3 billion dollars in lost productivity every year.
The Canadian Caregiver Coalition has put together an online education forum that promises to provide more information on the evolving relationship between work and caregiving.