Rob Ford is back in Toronto's Mount Sinai Hospital as he continues his battle against cancer.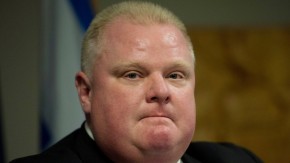 The city councillor's office has issued a statement which says the family of the former mayor is asking for privacy during this difficult time. Ford's family "would also like to thank the people of Toronto and around the world for their ongoing prayers and support."
Ford was first diagnosed with a rare form of cancer during his bid for re-election in the fall of 2014 which forced him to withdraw from the race. He has since undergone surgeries and several rounds of chemotherapy.
Many people have taken to Twitter to extend their best wishes to Rob Ford and his family.
Councillor Norm Kelly tweeted last night, "please keep Rob Ford in your prayers tonight."
Councillor Josh Matlow tweeted "sometimes…grievances, along with old battles, should be set aside. I wish Rob Ford & his family my love, best wishes and strength."
"Hoping Rob Ford finds renewed strength in the best wishes & prayers of thousands," Ford's former chief of staff Mark Towhey said, "My thoughts are with him, his wife, children & family."
The Ford family has also created a website where well wishers can leave messages of support and pictures taken with the former mayor.